Scoala de Iarna GPeC 15-19 februarie: Cursuri intensive de eCommerce & Digital Marketing cu traineri internationali si romani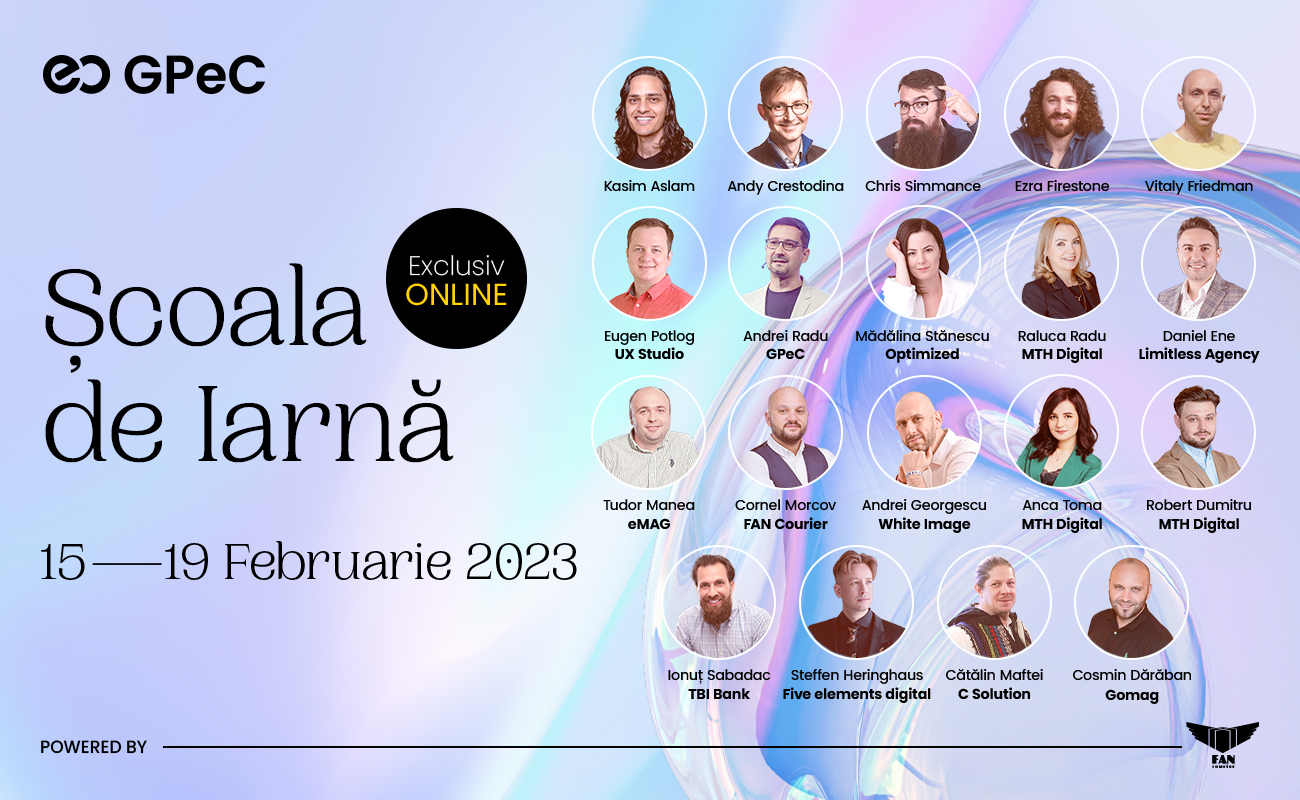 Scoala de Iarna GPeC - singura serie de cursuri intensive de eCommerce si Digital Marketing din Romania - se va desfasura exclusiv online pe Zoom in perioada 15-19 februarie 2023 si se adreseaza tuturor celor interesati de cresterea vanzarilor online, precum si specialistilor in marketingul digital.
Deoarece MerchantPro este partener al evenimentului, oferim ocazia doritorilor sa beneficieze de un discount special pentru achizitionarea accesului la discutiile online. Astfel, tot ce trebuie sa faci este sa introduci codul de discount MP49 in ultimul pas din formularul de inscriere pentru a obtine o reducere de 49 EUR din taxa de participare de 349 EUR, astfel ca vei plati doar 300 EUR + TVA/persoana. Oferta expira pe 8 Februarie 2023, ora 23:59.
Nivelul tuturor cursurilor este Incepator/Intermediar, iar inscrierile se fac online pe website-ul GPeC pana pe 14 februarie 2023, ora 14:00.
Speakeri de top
in premiera, cinci traineri internationali recunoscuti drept autoritati in domeniu la nivel global, vor sustine cursuri in cadrul scolii de Iarna GPeC:
Ezra Firestone - Expert International de Top in eCommerce, potrivit Shopify si Entrepreneur Magazine;
Andy Crestodina - Top 10 Experti Internationali in Marketing Online, potrivit Forbes;
Kasim Aslam - CEO & Founder Solutions 8 - considerata una din cele mai bine cotate agentii de Google Ads din intreaga lume;
Vitaly Friedman - UX Consultant & Co-Founder Smashing Magazine;
Chris Simmance - Expert in Leadership si Business Growth.
Lor li se vor alatura unii dintre cei mai buni traineri si invitati speciali din Digital-ul romanesc, scoala de Iarna GPeC aducandu-le participantilor un total de 19 speakeri internationali si romani.
Timp de 5 zile, Scoala de Iarna GPeC le aduce participantilor 14 sesiuni de curs si dezbateri pline de exemple practice despre cum sa isi creasca vanzarile online chiar si in perioade de criza si cum sa faca marketing online in mod profesionist, trainerii fiind unii dintre cei mai buni specialisti din domeniu.
Cursurile Scolii de Iarna GPeC
Subiectele abordate in cadrul cursurilor sunt de maxim interes pentru orice magazin online interesat de cresterea vanzarilor, precum si pentru cei care activeaza in Digital Marketing:
Situatia pietei de eCommerce la zi, provocari si oportunitati pentru 2023 - Tudor Manea (CEO eMAG), Cornel Morcov (Chief Commercial Officer FAN Courier), Catalin Maftei (Founder C Solution), Ionut Sabadac (VP Merchant Solutions tbi Bank);
UX & Marketing Tips pentru cresterea ratei de conversie - Andrei Radu, CEO & Founder GpeC;
The Future of AI & Machine Learning in Advertising: The Machines Won - Kasim Aslam, CEO Solutions 8;
Facebook, Instagram & TikTok Ads pentru E-Commerce - Raluca Radu (Founder MTH Digital), Anca Toma (Director of Digital Strategy & Analytics MTH Digital), Robert Dumitru (Managing Partner & Head of Digital MTH Digital);
UX Tips & Tricks for your website - Vitaly Friedman, UX Consultant & Co-Founder Smashing Magazine;
Google Analytics 4: Introducere si scenarii practice pentru magazinele online - Eugen Potlog, Founder UX Studio;
De la 0 la 2 Milioane de Eur in E-Commerce - Ghid de Analiza si Crestere a Vanzarilor pentru Magazinele Online - Daniel Ene, CMO Limitless Agency;
Profit First: How to thrive during a recession - Ezra Firestone, Founder Smart Marketer;
The Psychology of Website Visitors: 5 Ways to Trigger Bias for Better Marketing - Andy Crestodina, Co-Founder & CMO Orbit Media;
Google Ads - Madalina Stanescu, Founder Optimized;
The Power of Critical Thinking in Digital Marketing Teams - Chris Simmance, Leadership & Business Growth Expert;
Automatizare, Scalare si Loializare: 23 de ponturi pentru strategia ta de business - Cosmin Daraban, CEO Gomag;
SEO Trends & Non Trends in E-Commerce 2023 - Steffen Heringhaus, CEO five elements digital;
Email Marketing - Andrei Georgescu, Managing Partner White Image.
Scoala de Iarna GPeC se va desfasura exclusiv online astfel incat participantii sa poata accesa cursurile de oriunde ar fi. De asemenea, ei vor avea acces si la inregistrarile video ale tuturor sesiunilor pentru a putea aprofunda cunostintele ulterior.
Agenda scolii de Iarna GPeC, cu programul complet pe zile si pe ore, precum si informatii detaliate despre fiecare sesiune de curs, poate fi consultata online pe site-ul GpeC.
Detaliile complete si inscrierile la eveniment se regasesc in sectiunea dedicata Scolii de Iarna GPeC 15-19 februarie 2023.